LAST EDITED ON Aug-07-10 AT 03:32 PM (PST)

It can be hard to come up with pictures to use for all your profiles.

You have copyright issues, model rights, other marketers using the same model photos, etc.

And, it's just plain wrong to use another person's face without their permission. Seriously. It's one thing to create a fake ID, and entirely another to steal someone else's, even if we think we aren't doing any harm.

Solution: Morph the faces of two or more people. I believe this is fair use of the faces, as the results aren't recognizable faces of real people.

It is a combination of faces, my own creativity and the power of computer programmers that made the end results. Although, the more faces used to create one face, the safer you probably are from both a legal point of view and of being "caught".

And you're not using a face that anyone would recognize as their own.

See for yourself. In the example below, I used two model pics I do have rights to use, with a pic of Beyonce. The end result is the larger pic on the right: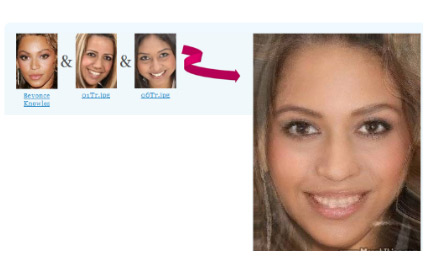 Remember, the pretty girl on the right isn't a real person. She's my own creation, a "franken-model" that I made from different body parts.

Tips
I downloaded various morphing software and visited some online morphing sites, I like this option the best:
http://www.morphthing.com/
You upload some good pics of faces. Then for each face you have to "prepare" it. It's pretty easy, you just have to click where the facial features are, and it explains it very well. But preparing each face will take a few minutes.
Once you're prepared a few faces, you can start mixing and matching them with each other, plus quite a few celeb pics they have ready for you to use.
After you morph a face, you can morph it again and again and again to get more faces quickly. Then download the ones you feel look the best.
This is a 2-3 hour job, but once you set it up, you have your own collection of "models" with no release contracts required. As far as I'm concerned, it's the cost of doing business if you want to use profile pics, which is usually a very good idea.
- To find some pics to use Google phrases like:
Search for: yearbook photos online 19XX <= change XX to a year with color pics.


Search for: Some Univeristy graduation pictures online
You don't need a lot. Just find yourself one good source where you can get 6-10 different faces with different facial features.
- Match up mouths/smiles/tetth. Are their lips open or closed.
- Use 3 or more faces to get the most unique results.
- Use a variety of races.
- Mix a "regular" face with the celebrity faces to get attractive, but not perfect looking models.
- Use Faststone image processor to crop the bottom watermark off the images all at once after you're finished creating your morph models. You can also use Faststone to batch resize and/or convert. You may want to make a few different sizes, and Faststone makes it fast and easy.
- Don't mix Al Pacino with females. Not good.

---
-Boom boom boom boom.