LAST EDITED ON Sep-06-10 AT 01:25 AM (PST)



FUNNEL BOMB is here.
Please see post #3 below for details...
Here's a video introduction to FUNNEL BOMB...More videos to come soon:
http://www.youtube.com/watch?v=taKVqjJbs5Y

(Sorry about the cheesy video...I'm just bad at making them.)
How To Set Up Funnel Bomb:
http://www.youtube.com/watch?v=H7TkdaduexU

You only need to do this once, then you can use the FunnelBomb system on all your domains.

FUNNEL BOMB
The Ultimate System For Designing and Publishing Web Pages That Pay!

The Funnel Bomb System is a hand-selected collection of potent and versatile resources essential for creating MONEY pages.
MONEY pages are the pages IMers design to directly make money such as:
sales pages
OTO pages
thank you pages
confirm pages
squeeze pages
video skins
review/adsense pages
...And more.
Funnel Bomb was created to put the best marketing elements and essential templates right at your fingertips, organized to make money page creation as efficient and effective as possible.
For example, you'll have access to a collection of graphics for web marketers, such as:
buy buttons
subscribe buttons
guarantee seals
check marks
bullets
animated arrows
...And lots more.
Also included in Funnel Bomb is a vital assortment of code snippets...Just click and add the following to your pages:
Pop up windows (both DHTML and javascript)
"Bookmark this page" code
Timestamp (both javascripts and SSI)
Tip Dropdown box (great for testimonials and more)
Add social bookmarking links
Auto Twitter link
Banner and link slideshow code
Snippet for review page including auto page "snapshot maker".
Paypal verification seal
floating johnson boxes
...And lots more.
The goal is to have just the stuff you need to crank out the money pages you need.
Funnel Bomb Is Not For Noobies!

You'll get my personal collection of special "frankenmodels", a unique assortment of frankenchicks and frankendudes that you "own".
What's a frankenmodel you may ask? Frankenmodels are a bunch of morphed faces I created by blending a number of faces together creating one-of-a-kind models of people that don't really exist.
And since I made them from multiple bodies, I own them...This means you don't have to worry about silly things like model release forms or stealing images from dating sites.
Use my frankenmodels for profiles, pen-name photos, and more in confidence knowing that these aren't real people as you're not using a face that anyone would recognize as their own.
See for yourself. In the example below, I used two model pics I do rights to use, with a pic of Beyonce. The end result is the larger pic on the right: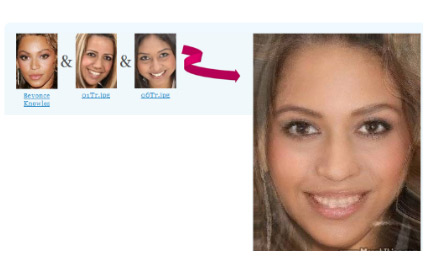 Remember, the pretty girl on the right isn't a real person. She's my own creation, a "franken-model" that I made from different body parts.
XXXXXXXXXXXXXXXXXXXXXXXXXXXXXXXXXXXXXXXXXXXXXXXXXXXXXXXX
a PDQ Code - HTML code used by web page designers with a focus on sales and IM.
Details for those that aren't self-explanatory.

-Get More Marketing Codes Here:
Due to copyright issues I didn't want to include these scripts directly. However, included are links to great resources to create your own custom banner scrollers, countdown scripts, pop up windows and lots more. Adding all the ones you want is a snap.

-Link *URL*
Surrounds a URL with html code to create a link.

-Link *URL* New Window
Surrounds a URL with html code to create a link that opens the page in a new tab or window.
-Link *ANCHOR*
Surrounds text with html code to create a link.
-Link *ANCHOR* New Window
Surrounds text with html code to create a link that opens the page in a new tab or window.
-Strike Through
-Highlight - Yellow
-Highlight - Red
-Highlight - Black
-PopUp - DHTML
Adds a basic "unblockable" popup window that's easy to customize.
-Pop-Under Delayed 10 minutes on closing page
Adds a pop-under window that doesn't open until 10 minutes after a page is loaded. Visitors don't know what site opened the window. Very powerful, but use with caution.
-.htaccess - AddHandler
This is used to have a web server/host use SSI tags on html pages.
-SSI Tag
Basic server-side include tag.
-PHP Include Tag
Similar to SSI tag.
-PHP Full Server Path
Shows the full server path of a page, useful sometimes when installing scripts.
-Auto Page Refresh/Reload
Can be used as an affiliate link cloaker. Will redirect browsers to another page you tell it to.
-Timestamp - SSI
Uses SSI to display the SERVER date and time.
-Meta Tags
-Social Bookmarking Links
Adds links to major social sites to make it easy for your readers to bookmark your page.
-Auto-Tweet Link
Link to help readers Retweet your page.
-Web Color Names List
List of names of colors recognized by web browsers. Use them to change the look and feel of your templates.
-Faux Comments
Adds "user" comments to your pages, a great way to camouflage links and content. However, faking testimonials and recommendations is illegal and wrong. Use this for other stuff.
-Faux Comment Form
No-working "comment box", used as more disguise for the faux comments.
-Zebra Table CSS
This adds alternating colors to table rows. However, not supported by all browsers.
-Back Button
Adds a back button to any page. Useful for when you want to make sure your readers can easily get back to a page if they have to leave. For instance, you may have a sales page with a link to more info about a tech subject and want to include a "back button" so they can easily return to your sales page.

XXXXXXXXXXXXXXXXXXXXXXXXXXXXXXXXXXXXXXXXXXXXXXXXXXXXXXXX
Exclusive Headline Swipe File
I've collected a bunch of attention getting headlines and modified them to fit many sales efforts. They're great for getting your creative juices flowing.
<h1>XXXXX Linked to YYYYY for </h1>
<h1>XXXXX Tips for YYYYY: 2 ZZZZZ You Should Avoid </h1>
<h1>Concrete Proof That </h1>
<h1>How to Remove XXXXX</h1>
<h1>5 Fast and East Steps To </h1>
<h1>B<h1>Every XXXXX, She Does Something Daring </h1>
for Your Kids</h1>
<h1>Every XXXXX, She Does Something Daring </h1>
<h1>XXXXX Linked to YYYYY for </h1>
<h1>I guarantee a 25% Increase in XXXXX or Your Money Back </h1>
XXXXXXXXXXXXXXXXXXXXXXXXXXXXXXXXXXXXXXXXXXXXXXXXXXXXXXXX

Funnel Page Systems
Includes clips for:
- Footer Links
Customize this to point to your main TOS, Privacy, Contact page, etc. Set it once and use it again and again.
- Paypay Thankyou Requirement
Text PP says you're supposed to put on your download pages.
- Paypal verified seal
Show people some trust
- Spam Policy, TOS and Privacy Policies
Creative commons you can use and modify.
- Collection of opt-in pages, thank-you pages and confirm page templates, all in different colors.

XXXXXXXXXXXXXXXXXXXXXXXXXXXXXXXXXXXXXXXXXXXXXXXXXXXXXXXX
Johnsonboxes and Testimonial Boxes
A vast collection of assorted "boxes", including CSS "floating" boxes and graphic testimonial boxes.

XXXXXXXXXXXXXXXXXXXXXXXXXXXXXXXXXXXXXXXXXXXXXXXXXXXXXXXX
Optin Pages and Chunks
Quality collection of optin elements, either as entire pages (page) or pasted into other pages (chunk).

XXXXXXXXXXXXXXXXXXXXXXXXXXXXXXXXXXXXXXXXXXXXXXXXXXXXXXXX
Sales OTO Utility Page Templates
- Main CSS
The style used for various pages and elements used in this sytstem. If you are creating your own templates, just start with this CSS.
-Review Page Template with Page Snapshot
This is a great feature that included a "capture" of a web URL so you can add the pic to your pages. Paste the chunk into any page.
-Sale Page #1
An easy to customize sales page template with swapable headers.
-Small Sales Page
A narrow, quick and simple template. Can be used for sales, confirm, optin, thankyou pages, etc.
-Basic one column - Basic Two Column
More variety.
Utility Sales-OTO
- Collection of templates for sales and OTO. Swap headers, remove backgrounds for many looks.

XXXXXXXXXXXXXXXXXXXXXXXXXXXXXXXXXXXXXXXXXXXXXXXXXXXXXXXX
ULs with Images
Unorder lists that use graphic bullets
XXXXXXXXXXXXXXXXXXXXXXXXXXXXXXXXXXXXXXXXXXXXXXXXXXXXXXXX
Video Skin Chunks
Add to pages to enhance embedded videos.

XXXXXXXXXXXXXXXXXXXXXXXXXXXXXXXXXXXXXXXXXXXXXXXXXXXXXXXX
Video Squeeze Pages
Complete pages combining video skins and email capture forms.
XXXXXXXXXXXXXXXXXXXXXXXXXXXXXXXXXXXXXXXXXXXXXXXXXXXXXXXX
Internet Marketing Graphics Collection
Bullets
Arrows
Guarantee Badges
Order Buttons
...More
---
-Boom boom boom boom.