This first graphic illustrates the general strategy for using RSS for cross-linking, indexing, etc: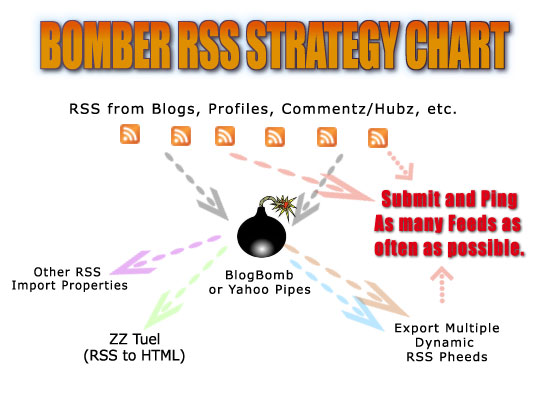 Every time you create a site that generates an RSS pheed you want to "mash it", which means to add it to a bunch of other RSS pheeds.
You can use Blogbomb or Yahoo Pipes to mash pheeds.
With BlogBomb, the more RSS pheeds you put into it, the more you can get out of it. In theory, you can create an infinite number of dynamic pheeds that you can not only submit, but will "update" every time they are pinged.
Again, "in theory". In reality, you'll probably get your site and/or IP banned at some point in time. Each site will have different thresholds. But they aren't Google and you can be (and should be) a little more aggressive with them.
Pinging and submitting RSS pheeds are two different things. Some sites you just need to submit your RSS and they will check every-so-often for updates. These are RSS directories and are just like web directories, but for RSS. You just need to submit each RSS pheed once.
Ping services want you to contact them (called a "ping") each time your site updates its RSS pheed. You should ping each time a page is added or updated and this is usually done automatically. WP blogs will have it built in, and some Tuelz have a pinger built in, and Pingz is still fairly functional for sites with RSS and no auto pinger.
A few sites are both: You need to submit your pheed and also ping each time it updates. Technorati is one that needs both. Don't worry too much about this, just learn to ping and submit.
You can use RSS in a number of ways. First, let's talk about link building. RSS pinging and submitting is a very effective way to get links, one of the best.
But it isn't as easy as setting up a single RSS pheed or even a good RSS "blackhole".
Before I go on, you need to actually SEE what's going on with a ping. Click here:
http://blogsearch.google.com/changes.xml?last=250
(Likely contains adult words)
This is Google's blog search pings...These are the blogs telling the Google blog search "hey look at me! I just updated!". This doesn't mean they will rank, only that they have asked Google to check out their updates.
Google will make a list of these URLs then send the spiders out to index the updates.
Go to the Google ping list back door:
http://blogsearch.google.com/changes.xml?last=250
(Likely contains adult words)
Not only is this a great way to get Google spiders to your site, it's also a great spy tool.
Now refresh the browser page a few times very quickly and note the changes.
There's a third reason for pinging and submitting RSS pheeds, and that's all the scrapers that grab RSS pheeds and use them on their own sites and blogs.
This what we are trying to do...We are trying to get as many RSS pheeds on as many places as possible in the hopes they will be scraped by others.
But if you did a refresh of the Google blog ping you'll see how fast this can update. And scrapers tend to grab pheeds that are the newest.
If you can get your pheeds scraped, you can get good links on a variety of sites and blogs pointing back to your properties. You want to "optimize" your RSS pheeds with this in mind.
Think like an SEOer doing some RSS scraping. Use the keywords you think they are using. If you can find your RSS items on other blogs and sites, try to figure out where they got them from. If you can, you have a "backdoor" onto their sites, in essence you are spamming the spammers.

But to do this, you need a bunch of RSS pheeds from all over the place (different IPs, etc). And you need to keep creating more, submitting them, updating them and then pinging them. Over and over.
---
-Boom boom boom boom.